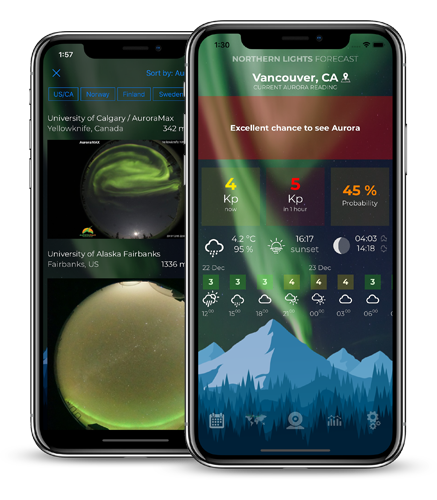 Northern Lights Forecast
Powerful app for catching Aurora Borealis!
Powerful Features
Northern Lights Forecast app was designed to improve your chance to see Aurora!
It will determine your location and, based on magnetic latitude, set the necessary notification settings. And as a result, in an efficient way, you will get alerts exactly at the right moment, when northern lights filled the sky!
Alerts and Push Notifications
Receive real-time alerts when the aurora is visible at your location or Kp index reaches chosen value. You can customize alert level.
Live Northern Lights Webcams
Watch live Aurora webcams from around the world. This is a great tool to see if the northern lights are visible near you. In the app, you can sort these webcams by distance from you or "aurora pixels", this is unique feature that detects the northern lights on webcams!
Live Aurora Map
See where the best viewing of the northern lights now on the live aurora map.
KP Index Forecast
Forecasts for next 3 days and next 27 days helps you to plan your aurora trip.
Sun & Moon Info
Get Sunrise, Sunset, Moonrise, Moonset times; as well as the Moon's phase!
Local time
Unlike many other apps, it uses the local time instead of UTC
Other Apps We Worked On
You can also checkout some of the other mobile apps in our portfolio

Aurora Alerts
App designed to monitor real-time auroral activity and push alert to let you know if there may be aurora borealis (northern lights) visible tonight.

Northern Lights Photo Capture
Perfect app to capture the Northern Lights (Aurora Borealis) on your iPhone/iPad! in addition, app allow you to view the latest northern lights forecast based on your location.
Download Northern Lights Forecast
Never miss Aurora again!
Get in touch
Use the contact form to ask us any questions or drop by our office for a nice coffee and a friendly chat following the directions below.